Mathematrix is a student-led group in the Mathematical Institute where postgraduates, postdocs and staff discuss and explore topics related to challenges in academic life and being a minority in the maths community. Mathematrix hosts weekly discussions during term-time. The events are relaxed and informal, and people may come and go as they please.
To join us, please subscribe to our mailing list by sending a blank email to @email. We would be very happy to receive your suggestions.
MONDAYS - MICHAELMAS 2023
Week 1 - Monday (1pm) in N3.12 - Meet and Greet 
Come along for free Pizza and to hear about the Mathematrix events this term. 
Week 3 - Monday (1pm) in N3.12 - Careers Event
We will have a Q&A with a panel of academics and industry experts on applying to jobs both in and out of academia. 
Week 5 - Monday (1pm) in N3.12 - Mentoring Discussion
We will be joined by people with mentoring experience to discuss the importance of both having and being a good mentor. 
Week 7 - Monday (1pm) in N3.12 - Crafts and Mindfulness
Feeling the winter blues setting in? Come and chill out with us and do some crafts. 
Weeks 2,4,6,8 - Tuesday - Coffee in the Common Room at 11
Current Term Card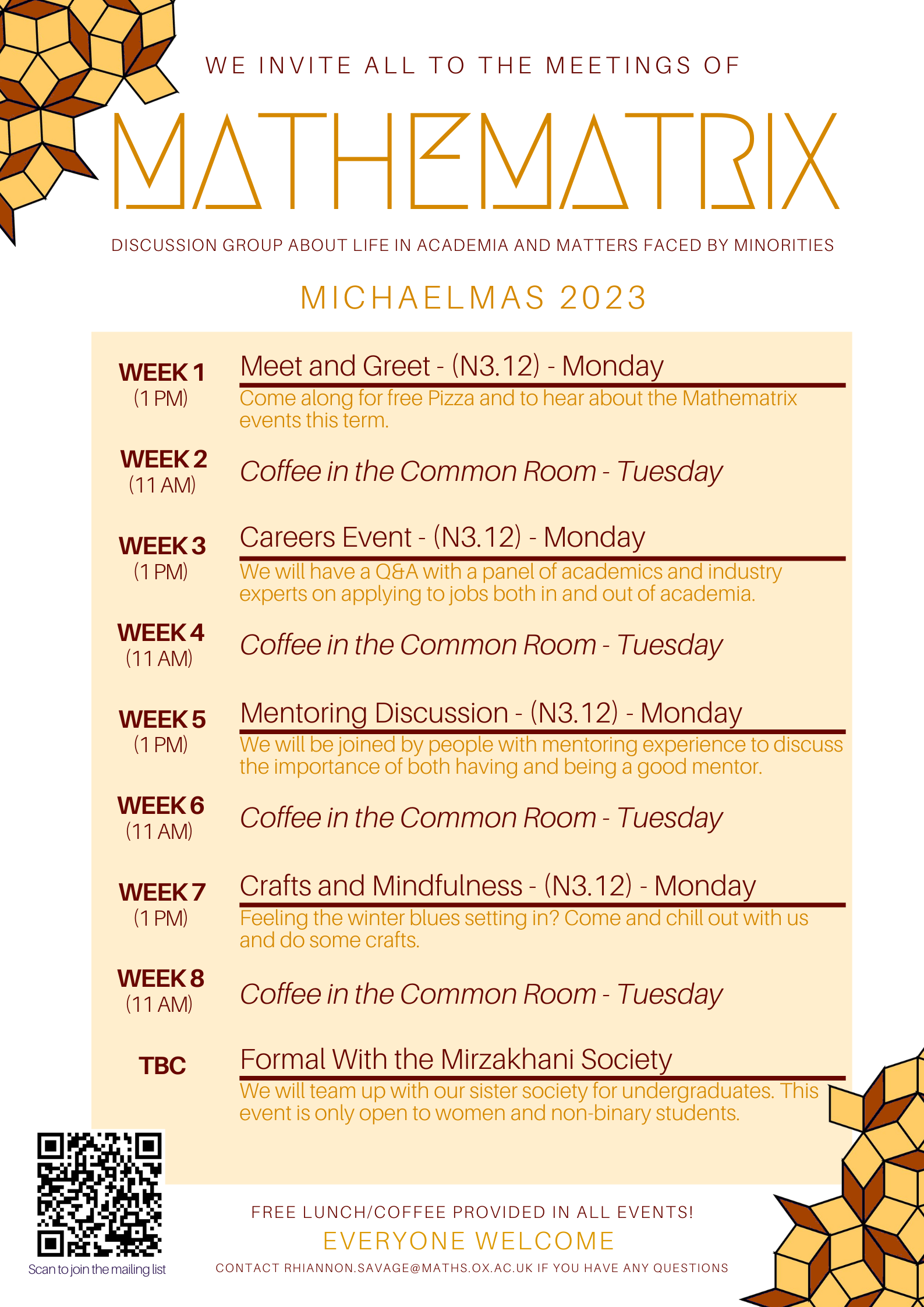 Previous Term Cards
| | | | |
| --- | --- | --- | --- |
| Michaelmas 2022 | Hilary 2023 | Trinity 2023 |   |
| | | |   |
| Michaelmas 2020 | Hilary 2021 | Trinity 2021 |   |
| | | |   |
| Michaelmas 2019 | Hilary 2020 |   |   |
| | |   |   |
| Michaelmas 2018 | Hilary 2019 | Trinity 2019 |   |
| | | |   |