Mathematrix is a student-led group in the Mathematical Institute which aims to provide a platform and network for postgraduates, postdocs and staff to discuss and explore topics related to challenges in academic life and being a minority in the maths community.
Mathematrix hosts weekly discussions during term-time accompanied by a free lunch. The events are relaxed and informal, and people may come and go as they please.

When: Mondays 1-2pm (Weeks 1-8 of term)
Who: Everyone!
What: Free lunch and discussions on topics related to life in academia and issues faced by minorities.
Below is a list of the events for the term; more information can be found by subscribing to the mailing list. We would be very happy to receive your suggestions, which can be left anonymously here.

Hilary Term 2020
Week 2 (N4.1): Imposter Syndrome: If you have a smart phone or tablet that you can bring with you, we encourage you to, as we will have some anonymous polls during the session.
Week 3 (N3.12): Friendly food with the Mirzakhani society
Week 4 (N4.1): Attainment gaps in highly mathematical subjects
Week 5 (N3.12): LGBTQ+ Week
Week 6 (N4.1): Supporting colleagues with mental health difficulties
Week 7 (N3.12): Women's Week
Week 8 (N4.1): Friendly food
Term Card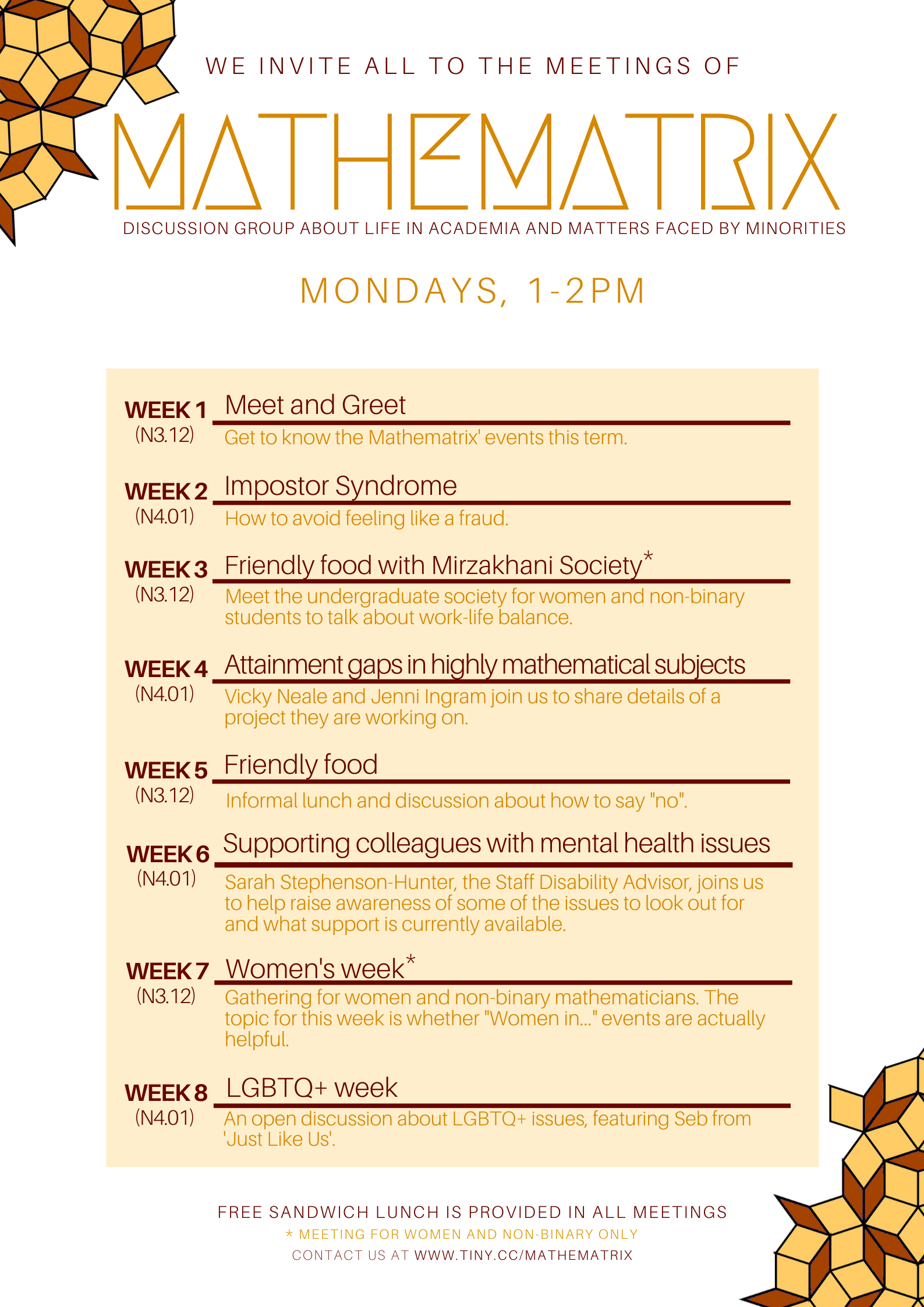 Previous Term Cards
| | | |
| --- | --- | --- |
| Michaelmas 2019 | Hilary 2020 | |
| | | |
| Michaelmas 2018 | Hilary 2019 | Trinity 2019 |
| | | |