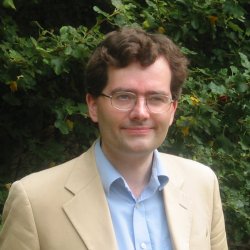 Prof. Andrew Dancer
BA, DPhil
Professor of Mathematics. Tutorial Fellow in Pure Mathematics at Jesus College.
Address
Mathematical Institute
University of Oxford
Andrew Wiles Building
Radcliffe Observatory Quarter
Woodstock Road
Oxford
OX2 6GG
Highlighted publications
Classifying superpotentials: Three summands case
Dancer, A
Wang, M
Journal of Geometry and Physics
volume 61
issue 3
675-692
(01 Mar 2011)
On Ricci solitons of cohomogeneity one
Dancer, A
Wang, M
Annals of Global Analysis and Geometry
volume 39
issue 3
259-292
(01 Jan 2011)
Non-abelian cut constructions and hyperkahler modifications
Dancer, A
Swann, A
Rendiconti del Seminario Matematico Universita e Politecnico Torino
volume 68
157-170
(2010)
Some new examples of non-kähler ricci solitons
Dancer, A
Wang, M
Mathematical Research Letters
volume 16
issue 2
349-363
(01 Jan 2009)
Non-Kahler expanding Ricci solitons
Dancer, A
Wang, M
International Mathematics Research Notices
volume 2009
1107-1133
(2009)
Research interests
Differential geometry, especially metrics of special curvature such as Einstein metrics and Ricci solitons. Symplectic, hyperkahler and other special geometries.
Recent publications
Partial implosions and quivers
Bourget, A
Dancer, A
Grimminger, J
Hanany, A
Zhong, Z
Journal of High Energy Physics
volume 2022
(08 Jul 2022)
Symplectic duality and implosions
Dancer, A
Hanany, A
Kirwan, F
Advances in Theoretical and Mathematical Physics
volume 25
issue 7
1367-1387
(24 Jun 2022)
Orthosymplectic implosions
Bourget, A
Dancer, A
Grimminger, J
Hanany, A
Kirwan, F
Zhong, Z
Journal of High Energy Physics
volume 2021
issue 8
(03 Aug 2021)
Hypertoric manifolds of infinite topological type
Dancer, A
Journal of Geometry and Physics
(24 Apr 2019)
Hypertoric manifolds and hyperKähler moment maps
Dancer, A
Swann, A
Special Metrics and Group Actions in Geometry
107-127
(23 Sep 2017)