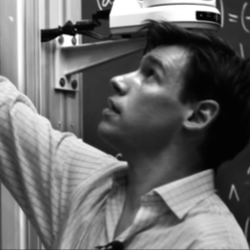 Prof. Francis Brown
Professor of Mathematics
Senior Research Fellow at All Souls College
Address
Mathematical Institute
University of Oxford
Andrew Wiles Building
Radcliffe Observatory Quarter
Woodstock Road
Oxford
OX2 6GG
Major / recent publications
Research interests
Arithmetic algebraic geometry and quantum field theory.
I am currently working on a `Galois theory of periods' and its applications. Periods are a class of transcendental numbers defined by integrals which includi pi and values of the Riemann zeta function at positive integers. A deep conjecture of Grothendieck predicts the existence of a linear algebraic group acting on such numbers.
Applications include: the study of mixed modular motives (iterated extensions of motives of modular forms) coming from the fundamental group of the moduli space of elliptic curves, and a new Galois group of symmetries of particle-scattering amplitudes in high-energy physics.
Recent publications
LAURICELLA HYPERGEOMETRIC FUNCTIONS, UNIPOTENT FUNDAMENTAL GROUPS OF THE PUNCTURED RIEMANN SPHERE, AND THEIR MOTIVIC COACTIONS
Brown, F
Dupont, C
Nagoya Mathematical Journal
volume 249
148-220
(26 Mar 2023)
A double integral of d log forms which is not polylogarithmic
Brown, F
Duhr, C
Proceedings of Science
(15 Feb 2022)
Invariant differential forms on complexes of graphs and Feynman integrals
Brown, F
Symmetry, Integrability and Geometry: Methods and Applications
volume 17
(23 Nov 2021)
Depth-graded motivic multiple zeta values
Brown, F
Compositio Mathematica
volume 157
issue 3
529-572
(22 Mar 2021)