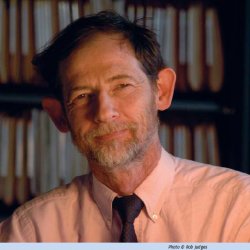 Prof. Sir John Ball FRS
Sedleian Professor of Natural Philosophy Director of the Oxford Centre for Nonlinear Partial Differential Equations Fellow of the Queen's College
Address
Mathematical Institute
University of Oxford
Andrew Wiles Building
Radcliffe Observatory Quarter
Woodstock Road
Oxford
OX2 6GG
Highlighted publications
On uniqueness for time harmonic anisotropic Maxwell's equations with
piecewise regular coefficients
Ball, J
Capdeboscq, Y
Xiao, B
Math. Models Methods Appl. Sci.
volume 22
1250036-
(10 Jan 2012)
http://arxiv.org/abs/1201.2006v1
Local minimizers and planar interfaces in a phase-transition model with interfacial energy
Ball, J
Crooks, E
Calculus of Variations and Partial Differential Equations
volume 40
issue 3
501-538
(24 Jan 2011)
Orientability and Energy Minimization in Liquid Crystal Models
Ball, J
Zarnescu, A
Archive for Rational Mechanics and Analysis
volume 202
493-535
(2011)
Nematic liquid crystals: From maier-saupe to a continuum theory
Ball, J
Majumdar, A
Molecular Crystals and Liquid Crystals
volume 525
1-11
(22 Jul 2010)
An analysis of non-classical austenite-martensite interfaces in CuAlNi
Ball, J
Koumatos, K
Seiner, H
Proceedings of the International Conference on Martensitic Transformations, ICOMAT-08
383-390
(01 Dec 2009)
Research interests
John Ball's main research areas lie in  the calculus of variations, nonlinear partial differential equations, infinite-dimensional dynamical systems and their applications to nonlinear mechanics. In solid mechanics, he is especially interested in the mathematics of microstructure arising from phase transformations in solids, using models based on nonlinear elasticity, where the problem of predicting microstructure morphology is related to deep unsolved questions of the multi-dimensional calculus of variations such as understanding quasiconvexity. A more recent research interest is in the mathematics of liquid crystals.
Recent publications
Interaction of martensitic microstructures in adjacent grains
Ball, J
Carstensen, C
International Conference on Martensitic Transformations (ICOMAT 2017)
(01 Apr 2018)
Liquid crystals and their defects
Ball, J
Mathematical Thermodynamics of Complex Fluids
(01 Sep 2017)
Mathematics and liquid crystals
Ball, J
Molecular Crystals and Liquid Crystals
volume 647
issue 1
1-27
(23 May 2017)
Partial regularity and smooth topology-preserving approximations of rough domains
Ball, J
Zarnescu, A
Calculus of Variations and Partial Differential Equations
volume 56
issue 13
1-32
(12 Jan 2017)