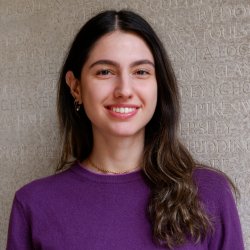 Maria Nocchi
Address
Mathematical Institute
University of Oxford
Andrew Wiles Building
Radcliffe Observatory Quarter
Woodstock Road
Oxford
OX2 6GG
Major / recent publications
Six-Point AdS Gluon Amplitudes from Flat Space and Factorization
Luis F.Alday, Vasco Gonçalves, Maria Nocchi and Xinan Zhou
Teaching
Hertford College:
Stipendiary Lecturer in Mathematics (2022-present):

Differential Equations I (MT)
Quantum Theory (MT)
Dynamics (HT)
Differential Equations II (HT)
Fluids and Waves (HT)
Calculus of Variations (TT)
Special Relativity (TT)
Mathematical Modelling in Biology (TT)
Mathematical Institute:
TA for:

2 sets of Conformal Field Theory (TT 2022)
1 set of String Theory I (HT 2022)
Research interests
Conformal Field Theories, Conformal Bootstrap.
Amplitudes in AdS from the AdS/CFT correspondence.
Conformal Perturbation Theory.