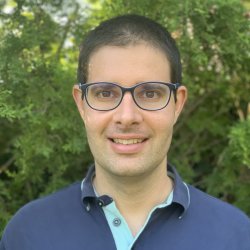 Prof. Mark Mezei
Address
Mathematical Institute
University of Oxford
Andrew Wiles Building
Radcliffe Observatory Quarter
Woodstock Road
Oxford
OX2 6GG
Major / recent publications
Effective description of sub-maximal chaos: stringy effects for SYK scrambling
C. Choi, F. M. Haehl, M. Mezei, G. Sárosi
JHEP 03 (2023), 142
Phases of Wilson Lines in Conformal Field Theories
O. Aharony, G. Cuomo, Z. Komargodski, M. Mezei, A. Raviv-Moshe
Phys.Rev.Lett. 130 (2023) 15, 151601
Moving the CFT into the bulk with TTbar
L. McGough, M. Mezei, H. Verlinde
JHEP 04 (2018), 010
On entanglement spreading in chaotic systems
M. Mezei, D. Stanford
JHEP 05 (2017), 065
A Refinement of entanglement entropy and the number of degrees of freedom
H. Liu, M. Mezei
JHEP 04 (2013), 162

Complete list of publications in inspire
Research interests
Quantum field theory: time evolution, AdS/CFT duals, defect and disorder operators and their effective field theory descriptions

A popular science account featuring my work can be found in Quanta Magazine under this link.
Teaching
I am lecturing A11: Quantum Theory in the 2023/24 academic year.
Further details
A workshop I organised with Felix Haehl in Wadham college in July 2023:
https://www.sns.ias.edu/~haehl/workshop/index.html
If you are interested in becoming my PhD student, please apply here. You do not need to contact me separately and doing so will not increase your chances of being accepted.
I only have the capacity to offer research projects to Oxford undergraduate students, not for students from other institutions.