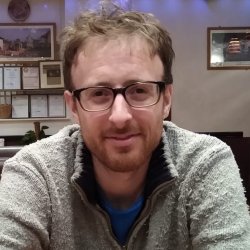 Dr Nick Jones
Address
Mathematical Institute
University of Oxford
Andrew Wiles Building
Radcliffe Observatory Quarter
Woodstock Road
Oxford
OX2 6GG
Recent publications
Bulk-boundary correspondence and singularity-filling in long-range free-fermion chains
Jones, N
Thorngren, R
Verresen, R
Physical Review Letters
(16 Jun 2023)
Integrable spin chains and the Clifford group
Jones, N
Linden, N
Journal of Mathematical Physics
(31 Oct 2022)
Symmetry-resolved entanglement entropy in critical free-fermion chains
Jones, N
Journal of Statistical Physics
(08 Jul 2022)
Gapless topological phases and symmetry-enriched quantum criticality
Verresen, R
Thorngren, R
Jones, N
Pollmann, F
Physical Review X
volume 11
issue 4
(23 Dec 2021)
Skeleton of Matrix-Product-State-Solvable Models Connecting Topological
Phases of Matter
Jones, N
Bibo, J
Jobst, B
Pollmann, F
Smith, A
Verresen, R
Physical Review Research
(20 Sep 2021)
Asymptotic Correlations in Gapped and Critical Topological Phases of 1D Quantum Systems
Jones, N
Verresen, R
Journal of Statistical Physics
volume 175
issue 6
1164-1213
(08 Apr 2019)
Topology and Edge Modes in Quantum Critical Chains.
Verresen, R
Jones, N
Pollmann, F
Physical review letters
volume 120
issue 5
057001-057001
(31 Jan 2018)
Fisher-Hartwig determinants, conformal field theory and universality in generalised XX models
Hutchinson, J
Jones, N
Journal of Statistical Mechanics: Theory and Experiment
volume 2016
issue 7
(11 Jul 2016)
Further details
A research case study is available here about some of my recent work.
All of my papers and preprints may be found on my arxiv page.