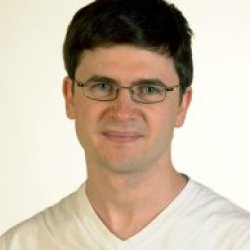 Prof. Oliver Riordan
Professor of Discrete Mathematics
Address
Mathematical Institute
University of Oxford
Andrew Wiles Building
Radcliffe Observatory Quarter
Woodstock Road
Oxford
OX2 6GG
Recent books
Percolation.
Bollobás, B
Riordan, O
(2006)
Recent publications
How does the chromatic number of a random graph vary?
Heckel, A
Riordan, O
Journal of the London Mathematical Society
(10 Aug 2023)
Random cliques in random graphs and sharp thresholds for F-factors
RIORDAN, O
Random Structures and Algorithms
(22 Jul 2022)
Essential properties of the tutte polynomial
Bollobas, B
Riordan, O
Handbook of the Tutte Polynomial and Related Topics
27-43
(06 Jul 2022)
A note on Linnik's theorem on quadratic non-residues
Balister, P
Bollobás, B
Lee, J
Morris, R
Riordan, O
Archiv der Mathematik
volume 112
issue 4
371-375
(11 Jan 2019)
Research interests
Random graphs, especially inhomogenous random graphs and their phase transitions; percolation, in particular percolation in random environments.
Prizes, awards, and scholarships
London Mathematical Society Whitehead Prize, 2007