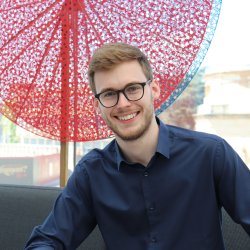 Cedric Pilatte
Address
Mathematical Institute
University of Oxford
Andrew Wiles Building
Radcliffe Observatory Quarter
Woodstock Road
Oxford
OX2 6GG
Major / recent publications
A solution to the Erdős-Sárközy-Sós problem on asymptotic Sidon bases of order 3. Preprint: https://arxiv.org/abs/2303.09659
New bound for Roth's theorem with generalized coefficients. Discrete Analysis, (2022), 16.
A note on optimal degree-three spanners of the square lattice. with Damien Galant, Discrete Mathematics, Algorithms and Applications, (2021), 2150124.
NP-completeness of slope-constrained drawing of complete graphs. Journal of Computational Geometry, Vol 11(1) (2020), 371-396.
On the sets of n points forming n+1 directions. Electronic Journal of Combinatorics, Vol 27(1) (2020), P1.24.
Further details
I completed my Master's degree in Mathematics at the Ecole Normale Supérieure in Paris. During my studies, I was supervised by Tim Gowers for a research internship and by James Maynard for my Master's Thesis. I received my Bachelor's in Mathematics from the University of Mons, in Belgium.
My CV.
Research interests
Hi! I am a PhD student at the University of Oxford since 2022, supervised by Ben Green and James Maynard. I am primarily interested in Analytic Number Theory and Additive Combinatorics. My papers are on arXiv.