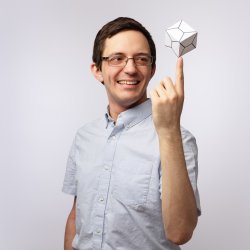 Dr James Munro
MA, MMath, PhD
Admissions and Outreach Coordinator
Status
Professional Services Staff
Address
Mathematical Institute
University of Oxford
Andrew Wiles Building
Radcliffe Observatory Quarter
Woodstock Road
Oxford
OX2 6GG
Teaching
In the academic year 2022-23, I'm running tutorials (small-group teaching) for New College on the following topics;
Introductory Calculus
Multivariable Calculus
Fourier Series and PDEs
Constructive Mathematics
Differential Equations 2
Calculus of Variations
As of 2023, I have Associate Fellowship of the HEA.
Further details
I coordinate the admissions process for the undergraduate Maths course at Oxford, and I'm responsible for making sure that the Mathematics Admissions Test is set and marked.
I spend most of the rest of the year on outreach projects to promote mathematics to anyone who will listen. I work on Maths content for the UNIQ Summer Schools and Opportunity Oxford, and I run a weekly MAT livestream from July to November for people thinking of studying maths at university. I also host the Oxford Online Maths Club from January to June each year, which has super-curricular mathematics ideas for people interested in maths.
It's part of my job to give maths talks to schools and colleges; if you're a teacher or you help run a maths club at your school or sixth-form college, and you would like to hear about chaos / geometric series / symmetry / fluid dynamics / maths at university / maths admissions for Oxford, please feel free to get in touch.