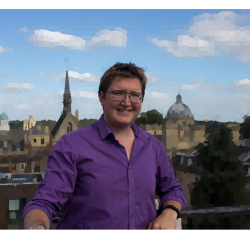 Dr Joshua Adam Bull
Status
Postdoctoral Research Associate
Address
Mathematical Institute
University of Oxford
Andrew Wiles Building
Radcliffe Observatory Quarter
Woodstock Road
Oxford
OX2 6GG
Recent publications
Supplementary Data from Mitochondrial Inhibitor Atovaquone Increases Tumor Oxygenation and Inhibits Hypoxic Gene Expression in Patients with Non–Small Cell Lung Cancer
Skwarski, M
McGowan, D
Belcher, E
Di Chiara, F
Stavroulias, D
McCole, M
Derham, J
Chu, K
Teoh, E
Chauhan, J
O'Reilly, D
Harris, B
Macklin, P
Bull, J
Green, M
Rodriguez-Berriguete, G
Prevo, R
Folkes, L
Campo, L
Ferencz, P
Croal, P
Flight, H
Qi, C
Holmes, J
O'Connor, J
Gleeson, F
McKenna, W
Harris, A
Bulte, D
Buffa, F
Macpherson, R
Higgins, G
(31 Mar 2023)
Data from Mitochondrial Inhibitor Atovaquone Increases Tumor Oxygenation and Inhibits Hypoxic Gene Expression in Patients with Non–Small Cell Lung Cancer
Skwarski, M
McGowan, D
Belcher, E
Di Chiara, F
Stavroulias, D
McCole, M
Derham, J
Chu, K
Teoh, E
Chauhan, J
O'Reilly, D
Harris, B
Macklin, P
Bull, J
Green, M
Rodriguez-Berriguete, G
Prevo, R
Folkes, L
Campo, L
Ferencz, P
Croal, P
Flight, H
Qi, C
Holmes, J
O'Connor, J
Gleeson, F
McKenna, W
Harris, A
Bulte, D
Buffa, F
Macpherson, R
Higgins, G
(31 Mar 2023)
Supplementary Methods from Mitochondrial Inhibitor Atovaquone Increases Tumor Oxygenation and Inhibits Hypoxic Gene Expression in Patients with Non–Small Cell Lung Cancer
Skwarski, M
McGowan, D
Belcher, E
Di Chiara, F
Stavroulias, D
McCole, M
Derham, J
Chu, K
Teoh, E
Chauhan, J
O'Reilly, D
Harris, B
Macklin, P
Bull, J
Green, M
Rodriguez-Berriguete, G
Prevo, R
Folkes, L
Campo, L
Ferencz, P
Croal, P
Flight, H
Qi, C
Holmes, J
O'Connor, J
Gleeson, F
McKenna, W
Harris, A
Bulte, D
Buffa, F
Macpherson, R
Higgins, G
(31 Mar 2023)
Supplementary Data from Mitochondrial Inhibitor Atovaquone Increases Tumor Oxygenation and Inhibits Hypoxic Gene Expression in Patients with Non–Small Cell Lung Cancer
Skwarski, M
McGowan, D
Belcher, E
Di Chiara, F
Stavroulias, D
McCole, M
Derham, J
Chu, K
Teoh, E
Chauhan, J
O'Reilly, D
Harris, B
Macklin, P
Bull, J
Green, M
Rodriguez-Berriguete, G
Prevo, R
Folkes, L
Campo, L
Ferencz, P
Croal, P
Flight, H
Qi, C
Holmes, J
O'Connor, J
Gleeson, F
McKenna, W
Harris, A
Bulte, D
Buffa, F
Macpherson, R
Higgins, G
(31 Mar 2023)
Supplementary Data from Mitochondrial Inhibitor Atovaquone Increases Tumor Oxygenation and Inhibits Hypoxic Gene Expression in Patients with Non–Small Cell Lung Cancer
Skwarski, M
McGowan, D
Belcher, E
Di Chiara, F
Stavroulias, D
McCole, M
Derham, J
Chu, K
Teoh, E
Chauhan, J
O'Reilly, D
Harris, B
Macklin, P
Bull, J
Green, M
Rodriguez-Berriguete, G
Prevo, R
Folkes, L
Campo, L
Ferencz, P
Croal, P
Flight, H
Qi, C
Holmes, J
O'Connor, J
Gleeson, F
McKenna, W
Harris, A
Bulte, D
Buffa, F
Macpherson, R
Higgins, G
(31 Mar 2023)
Teaching
Teaching Qualifications
I have been accredited as an Associate Member of the Higher Education Academy by completing the Developing Learning and Teaching qualification through the Oxford Learning Institute. Prior to this, I have also completed the University of Oxford Preparation for Learning and Teaching scheme through the Mathematical Institute. I am also a registered STEM ambassador.
Last updated July 2018

Teaching Experience
Non-stipendiary Lectureship – St Hugh's College, Oxford

Academic year 2016-17 – Differential Equations I & II (A1 & A6), and Integral Transforms (ASO).

Class Tutor – Department of Biochemistry, Oxford

Academic years 2015-16, '16-17, '17-18 – Mathematics for Biochemists
Academic year 2017-18 – Statistics for Biochemists

Class Tutor – Exeter-Williams Programme, Exeter College, Oxford

Academic year 2015-16 – Course based on Differential Equations I (A1)

Teaching Assistant – Mathematical Institute, Oxford

Academic year 2015-16 - Mathematical Physiology (C5.12)
Academic year 2015-16 - Numerical Solutions to Differential Equations II (B6.2)

Course Demonstrator – Doctoral Training Centre, Oxford

Academic years 2015-16, '16-17 – Mathematical and Computational Biology
Research interests
My research interests are predominatly focussed around cancer biology. I use agent-based mathematical models to simulate tumour growth, as well as a range of statistical and mathematical techniques to find new ways of interpreting these models.
As well as mathematical modelling, I am interested in computer vision for medical imaging. As part of my DPhil, I have developed image analysis software for processing whole slide histology images. I aim to integrate these techniques with my modelling work to create tools for pathologists to better understand and interpret their images, and for mathematicians to better use image data to inform and develop better models.
Further details
I work in the Wolfson Centre for Mathematical Biology on the modelling of tumour-immune interactions, specifically focussing on spatial models of macrophage infiltration. Macrophages are a type of immune cell which ordinarily attack invaders like bacteria when you're injured. But in cancer, macrophages are tricked by the tumour into pumping out growth factors which help blood vessels grow and bring oxygen to the tumour rather than attacking it. I aim to use mathematical modelling to understand the mechanisms through which tumours prevent macrophages from attacking them, and to propose circumstances where drugs targeting these mechanisms will be most effective.
During my DPhil I have also developed image analysis techniques to enable the quanitifcation of immune cell infiltration in histological images. I am particularly interested in developing this into software to enable pathologists who are unfamiliar with coding and computational techniques to quickly and accurately analyse their images.
Other stuff
Research on the Rocks: As of late 2020 I've joined the ever-expanding horde of Researchers With Their Own Podcast. Check out the Research on the Rocks website for more details, or you can find us wherever you get your podcasts from (hopefully).
Interactive tumour radiotherapy model: This webpage is an interactive demonstration of a simple model of tumour response to radiotherapy. It's based on logistic growth, but for some reason the equation doesn't show properly on Google Chrome so use Firefox v3.5 or later if you want to see it in its full glory!
Superpixels: When dealing with large histology images, I use superpixels as a way of reducing image size and complexity. This basically involves merging nearby pixels into blobs according to their colour while trying to leave the picture looking as close to how it did before as possible. Don't be deceived, the picture of me on this page isn't just a bit blurry - I couldn't resist running it through the superpixellation algorithm which I use! You can find some more examples of superpixels applied to some of my photography on this really, really high tech web page.
Statistics tools: I've written some basic python scripts to generate example datasets for applying simple statistical tests. These are designed to generate test datasets for students on the Statistics for Biochemistry course. You can find them here.