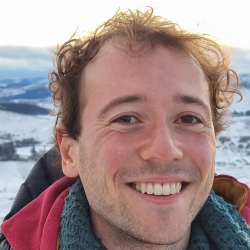 Thomas Jewell
MPhys Physics with Theoretical Physics (University of Manchester)
Address
Mathematical Institute
University of Oxford
Andrew Wiles Building
Radcliffe Observatory Quarter
Woodstock Road
Oxford
OX2 6GG
Major / recent publications
Thomas Jun Jewell, Andrew L. Krause, Philip K. Maini, and Eamonn A. Gaffney. Patterning of nonlocal transport models in biology: the impact of spatial dimension. July 2023. arXiv preprint: https://arxiv.org/abs/2307.03117 
Joseph W. Baron, Thomas Jun Jewell, Christopher Ryder, and Tobias Galla. Breakdown of Random-Matrix Universality in Persistent Lotka-Volterra Communities. Phys. Rev. Lett. 130, 137401.  March 2022. DOI: https://doi.org/10.1103/PhysRevLett.130.137401
Joseph W. Baron, Thomas Jun Jewell, Christopher Ryder, and Tobias Galla. Eigenvalues of Random Matrices with Generalized Correlations: A Path Integral Approach. Phys. Rev. Lett. 128, 120601. March 2023. DOI: https://doi.org/10.1103/PhysRevLett.128.120601.
Research interests
Turing patterning in reaction-advection-diffusion systems in developmental biology and ecology. Currently working on systems with nonlocal interactions.
Previous work on ecological modelling using dynamical mean-field theory and random matrix theory.
Teaching
Classical Mechanics (Teaching Assistant) - Mathematical Institute, University of Oxford. (2022)
Electromagnetism (Teaching Assistant) - Mathematical Institute, University of Oxford. (2023)