Open Access and UKRI's new OA requirements
UKRI's new Open Access requirements
REF2021 mandated an Open Access (OA) requirement on articles submitted. Authors could satisfy this requirement by depositing their author-accepted manuscripts (AAM) in Symplectic, which took care of managing embargos and making the article OA via the green route at the appropriate time.
UKRI have decided to bring in stricter OA rules on UKRI-funded researchers. These rules apply to manuscripts submitted on or after 1 April 2022. These rules cannot be satisfied simply by depositing the AAM in Symplectic, as before: any manuscripts archived have to be available immediately under a Creative Commons CC BY license. The Bodleian OA website has a section on these new rules. The OA requirements for eligibility for the next REF are not yet clear, but a reasonable guess is that they will follow the same rules as UKRI.
In order to assist researchers in complying with these rules, the department has prepared the following flowchart. Strictly speaking, this flowchart applies to UKRI-funded researchers from 1 April 2022, but this may change in the future to include everyone.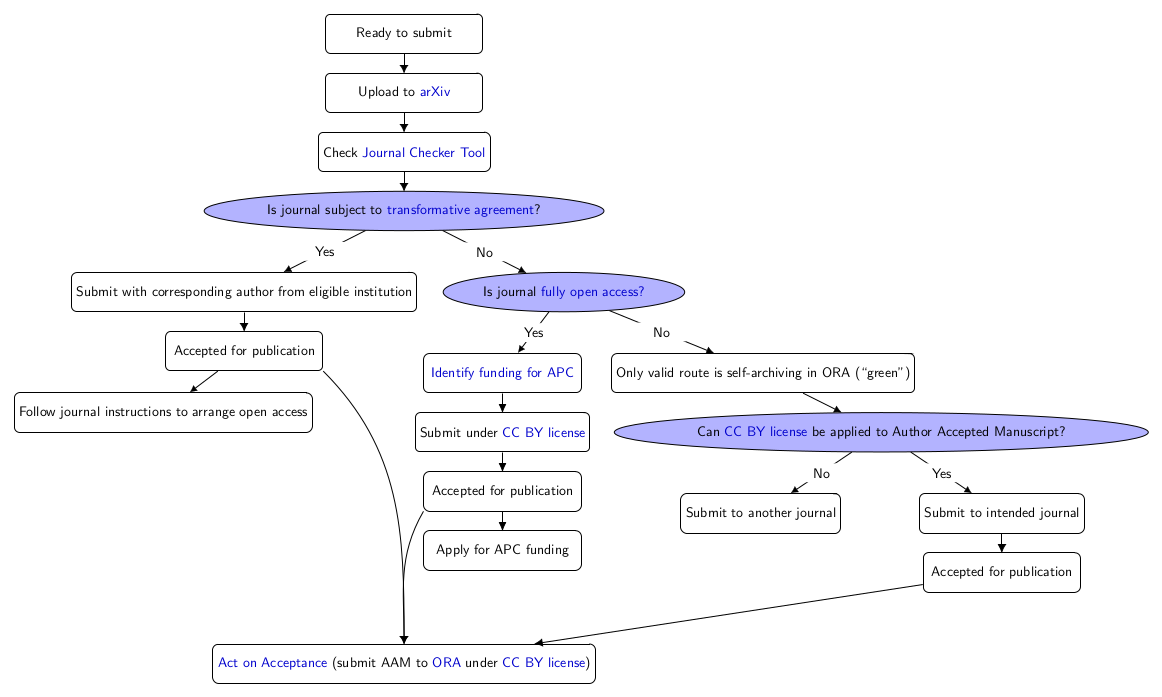 For accessing hyperlinks, please use the PDF version: oaflowchart.pdf
For corrections or suggestions, please contact Patrick Farrell or the Bodleian Open Access team.
 
---
Depositing your paper in ORA using Symplectic
Once your paper has been accepted for publication, you simply follow these instructions to deposit your paper in ORA using the Symplectic system (see single-sign-on login in top-right corner). 
 
---
Don't forget your data
At the same time as depositing your final paper in ORA, you should also remember to deposit your "supporting data" in ORA-data. 
This is a separate requirement which was initially for those with EPSRC research funding but is now required under the university's Policy on Research Data Management. 
For more details, see here. 
 
---
arXiv
We recommend you upload your manuscripts to arXiv at the same time as journal submission. While not mandatory, this allows for the widest dissemination of our research.
Once the article is accepted for publication in a journal, it is possible to update the arXiv record to include this information. See the arxiv help pages for more information.
---
Support from the Bodleian
The open access policy environment is quite complex. The Bodleian Libraries has an open access team at @email. They are keen to help with advice on OA requirements and the options available, including sources of publication funds, using rights retention, conversations with co-authors about OA costs, and on the relationship between OA and Intellectual Property.
---