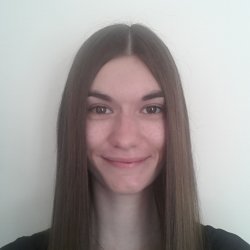 Helen Fletcher
Mathematics MSci, University of Birmingham
DPhil Student, InFoMM CDT
Address
Mathematical Institute
University of Oxford
Andrew Wiles Building
Radcliffe Observatory Quarter
Woodstock Road
Oxford
OX2 6GG
Major / recent publications
Technical reports:
[1] H. Fletcher, C. Hall, C. Please. Sodium Intercalation into Hard Carbon. DPhil Technical Report, University of Oxford, 2015.
ESGI reports:
[2] E. Brambley, H. Fletcher, R. Hill, I. Johnston, J. Liu, R. MacKay, J. Mathews, J. Ockendon, B. Piette. Measuring Vibrations from Video Feeds. ESGI130  Report, 2017.
Theses, and other:
[3] H. Fletcher, J. Leach, D. Needham. An Initial-Boundary Value Problem for Burgers' Equation on the Positive Quarter Plane. MSci Thesis, University of Birmingham, 2014.

[4] H. Fletcher, D. Loghin. On the Roots of a Quintic Polynomial. MSci Literature Review, University of Birmingham, 2013.
Prizes, awards, and scholarships
Research interests
My current DPhil research is in collaboration with the US Army Corps of Engineers, and HR Wallingford. The aim of my project is to develop a more efficient wave absorption technique for use in Proteus, a Python-based computational methods and simulation toolkit.
My past research has included modelling chemical intercalation within electrodes in batteries at a microscopic scale, and developing analytical solution methods for differential equations in order to study their behaviour.

In general, my research interests include:
Linear and Non-Linear Wave Theory
 
Mathematical Modelling Techniques

Asymptotic Analysis
Fluid Mechanics
Applications in Medicine, Biology, Chemistry, and Technology