Annotating slides in Keynote for iOS
Annotating slides in Keynote for iOS
This is a brief guide on how to annotate slides in Keynote. Please note that Keynote only provides live annotations in presentation mode, so it is not possible to permanently save annotations.
Open Keynote and select a presentation or create a new one.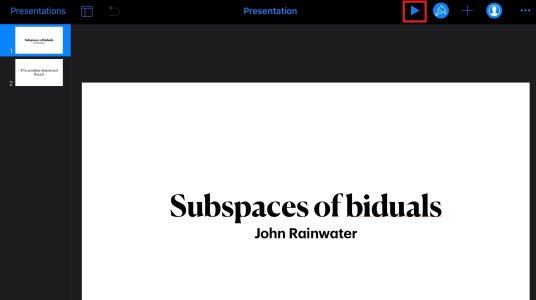 Put Keynote in presentation mode by pressing the "Play" sign button.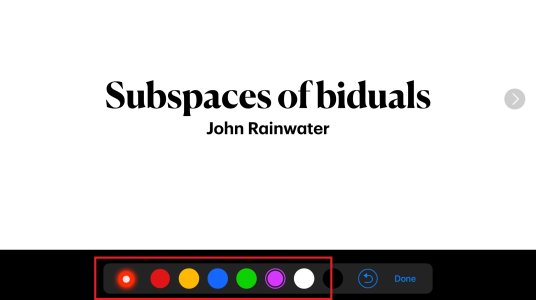 In order to draw on the slide, tap and hold the slide
Tap a pen colour from the menu in order to draw in colour using your finger or a stylus/Apple Pencil.
There is also a laser pointer option available for pointing on the slide, just tap on the laser pointer and move our finger on the slide, the pointer follows your finger movement.
In order to return to a previous slide or advance one, press the left or right arrow accordingly.
Undo: you can undo by pressing the arrow button next to "Done"
Pressing "Done" clears the annotations and returns you to plain presentation mode. You can tap and hold on the slide in order to return back to the annotations, but once you exit presentation mode, all annotations will be erased.