Waste, Recycling & Environmental Sustainability
Waste, Recycling & Environmental Sustainability
Bins
Each office is equipped with a blue recycling bin which is emptied weekly the overnight contractor cleaners.
The kitchens and corridors contain larger bins in pairs, one for recycling and the other for landfill waste. There are signs above each such bin explaining what items may be put into each one
Shredding
There is a shredding machine in the mail room (S0.01) for small amounts of shredding. For larger amounts please contact @email who can provide a collection sack and take away the material for shredding. FM will also periodically announce a shredding collection.
Reuse
The department makes efforts to reuse items where possible or to make them available to others for reuse. In particular the majority of old IT equipment is made available for free to department members (via the collection point near S1.55), other university members or charities. As such very little IT equipment needs to be sent for recycling/disposal. As part of the move to the new building some furniture and other resources were reused. Other items were donated to the wider university and are now in use by other departments (you may recognise old maths  items from Dartington House now in the Gibson Building as well as old maths items in use in those buildings by the new occupants that the department donated on departure).
Recycling
Recycling rates within the building are good. Our rates have risen from around 30% to over 60% and continue to climb. Other waste is also sent to generate power rather than go to landfill.
There is a battery recycling collection point near the reception back office (S0.01).
Printer toners are replaced by IT and gathered in the collecting box in the mail room. When the box is full FM arrange the collection and recycling.
Environmental Sustainability and Green Impact
Please see the university strategy on environmental sustainability.
The department/building displays its Energy Performance Certificate, Display Energy Certificate and the Building Research Establishment Environmental Assessment Methodology (BREEAM) Excellent Certificate in the entrance area of the building.
The department has previously participated in the University's Green Impact Scheme and Awards. The department attained the bronze award in 2013/14 (i.e. based on the initial build without any further adjustment to operation or setup). In 2014/15 the department attained the silver award (note in both the first two years of the scheme gold awards were not part of the scoring/assessment system). In 2015/16 the department attained the gold award.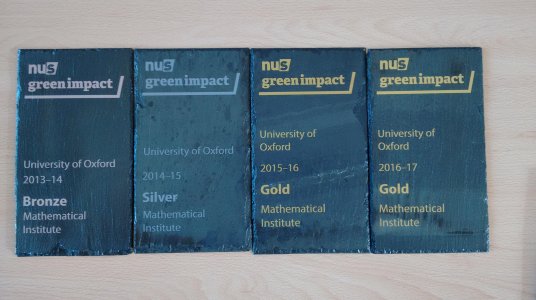 We are very fortunate to occupy a new building and took a very active part in its design and implementation, in particular with the specification of practical and energy efficient systems.
However, six key negative impacts our building and operations have are our electricity usage, gas usage, water usage, paper usage, travel to conferences, and travel of visitors to the department. The majority of the department's positive impacts are its efforts to reduce its impact (e.g. recycling, aircon management, green IT, duplex printing, video conferencing, equipment reuse, give away and recycling, annual full building inspections to identify issues, not using disposable crockery, cups and cutlery, natural ventilation, GSHP, BMS, recycling bins only, use of jet towel air dryers, no paper towels in wcs, percussion taps, filtered water zip taps for hot and cold water (rather than bottled water or bottle fed coolers or kettles), automatic lights off, insulation, green roof, TRVs, internal cycle store and showers, only running dishwashers when full, fairtrade, freedom food etc products through caterers, heating only on weekday working hours, logging of portable heaters issued (for temporary heating failures only), dual flush toilets, limited use of urinals and only with water management system fitted).
The negative impacts above are periodically reviewed with the facilities management team. In particular we receive and discuss quarterly management reports within which we track the electricity, gas and water usage, and recycling and waste levels, as well as discussing ways to reduce usage further. Our paper usage is tracked both in terms of the amount ordered and various print and copy logs. Efforts continue to be made to reduce paper usage although pre-pandemic we were only managing to keep usage constant (even though the number of people in the department continued to grow). Pre-pandemic we were using about 1.5 million sheets of A4 paper per year. The pandemic saw an almost overnight rise in the number of people who use video conferencing rather than travelling to other places or coming here for short meetings and vivas etc. Print volumes also plummeted and whilst they have risen as normality returns they remain well below the pre-pandemic level.
Suggestions
If you have other suggestions of things the department could consider for recycling and energy efficiency etc, or any other enquiries about Green Impact, then please email @email or @email, or contact them in other ways (e.g. pop in for a chat).